The best towns and villages in the Cotswolds
The prettiest villages in the Cotswolds share many charming characteristics. With their honey-hued cottages and age-old thatches, quaint churches and quintessentially English country pubs, days spent discovering these chocolate box villages are the highlight of any Cotswolds holiday. Here's a roundup of some of our favourite towns and villages in the Cotswolds.
Bourton-on-the-Water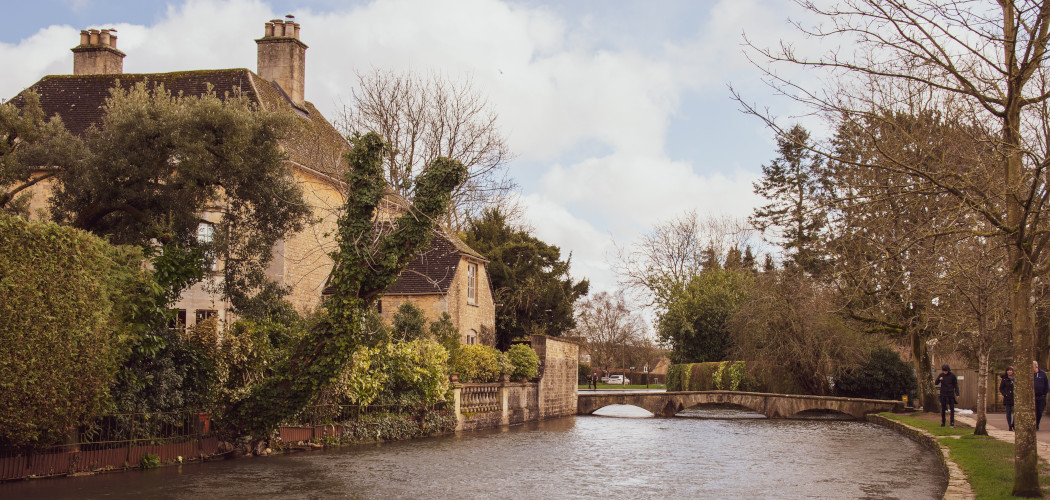 Bourton-on-the-Water is one of the most famous villages in the Cotswolds. Football in the river draws a crowd here each August Bank Holiday, as it has for over 100 years, but the picturesque village is beautiful all year round.
Marvel at miniatures in the model village, or indulge a need for speed at the Cotswold Motoring Museum, home to 50 rare classic cars and bikes. The photogenic Bakery on the Water is another must visit; load up with warm scones and find a grassy spot beside one of the many bridges for which the village is best known.
Distance from Lower Mill Estate: 23 miles
Upper Slaughter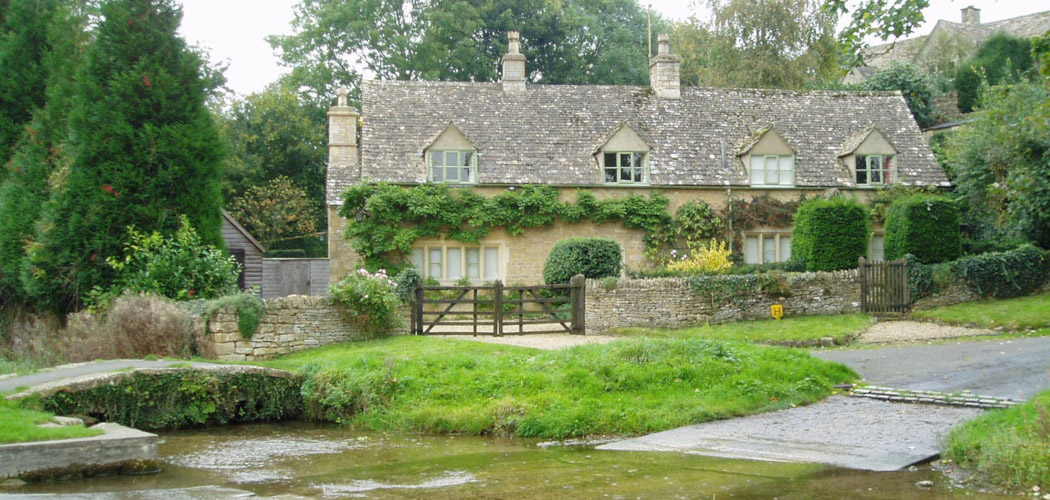 Nestled on the banks of the River Eye, Upper Slaughter is as charming as Cotswolds villages come. In spite of its slightly macabre name, the village is idyllic, featuring a medley of golden almshouses with immaculately manicured gardens. There's delightfully little to do here but admire the fairytale homes and hide away at The Lords of the Manor for an indulgent lunch at the 3AA Rosette Atrium restaurant, voted one of the best 100 restaurants in the UK by the Sunday Times.
Distance from Lower Mill Estate: 25 miles
Lower Slaughter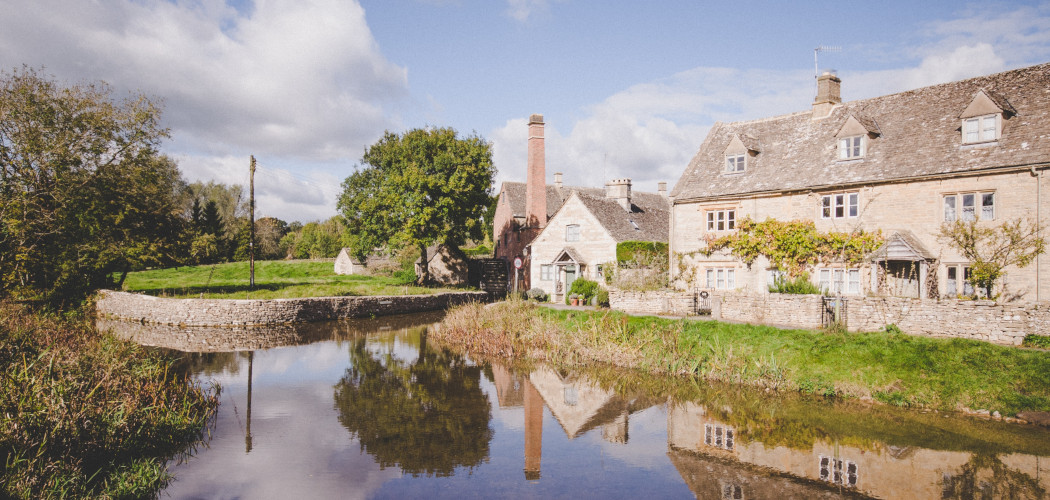 A short walk from Upper Slaughter, you'll find the similarly enchanting village of Lower Slaughter, a must-feature in any Cotswolds holiday plans. Take a walk down memory lane in a sleepy spot that has changed very little since centuries gone by, and admire its old limestone cottages and mills, teetering on the edge of the stream that runs through the heart of the village.
You can tick off three beautiful villages in one day with the popular Bourton and the Slaughters circular route – a great walk or cycle that starts in Bourton-on-the-Water, and takes in both Upper and Lower Slaughter.
Distance from Lower Mill Estate: 24 miles
Bibury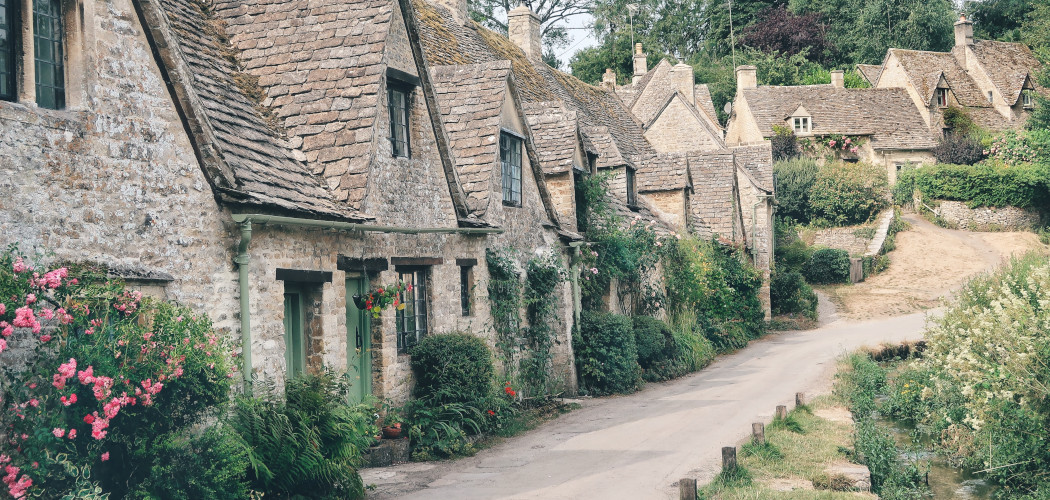 Bibury is just a short drive away from the town of Cirencester, but standing beside the picture-perfect 14th century cottages of Arlington Row leaves you feeling a world away from the hustle and bustle.
Come rain or shine, Bibury is one of the best places to enjoy a scenic stroll when visiting the Cotswolds. Pull on your walking boots and embark on the Bibury to Coln St Aldwyns circular for beautiful river views, with The New Inn offering an excellent pub pit-stop.
Distance from Lower Mill Estate: 13 miles
Stow-on-the-Wold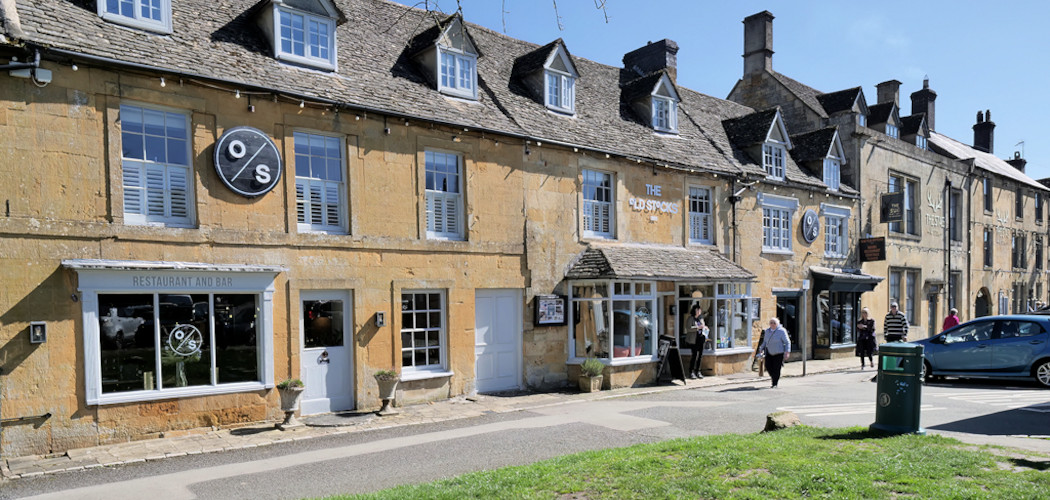 Credit: David Dixon
In Stow's wool trade heyday, over 20,000 sheep changed hands in the Market Square of the historic wool town. Today, you are more likely to come across antique shops, art galleries and interior boutiques in the winding streets, though a weekly farmer's market harks back to its roots.
Stow-on-the-Wold has a reputation as the best place in the Cotswolds for antiques shopping, making it a must-visit for avid collectors. Scout for treasures before tucking into afternoon tea at one of the town's many tea rooms; the New England Coffee House and Coach House Coffee are just two of our favourites.
Distance from Lower Mill Estate: 26 miles
Burford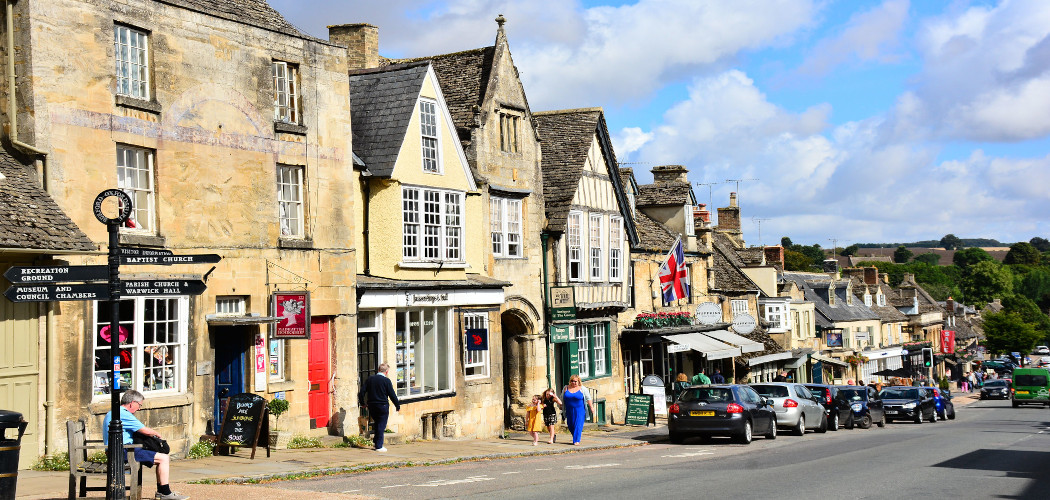 Credit: Mike McBey
Burford is considered the gateway to the Cotswolds and it offers a warm welcome with grand architecture, an array of independent clothing and interiors boutiques and even its own garden centre.
Take in the view across town and the River Windrush from Burford Hill, then delve into the picturesque high street for a more charming shopping experience than the average. We particularly love the House of Malu, a bespoke, independent department store with an immaculate selection of luxury luggage, artwork and covetable furnishings. Elsewhere locally, Burford Garden Centre is a must for the green-fingered and has a huge children's area too, making for a lovely day out if you're visiting the Cotswolds with multiple generations.
Distance from Lower Mill Estate: 23 miles
Castle Combe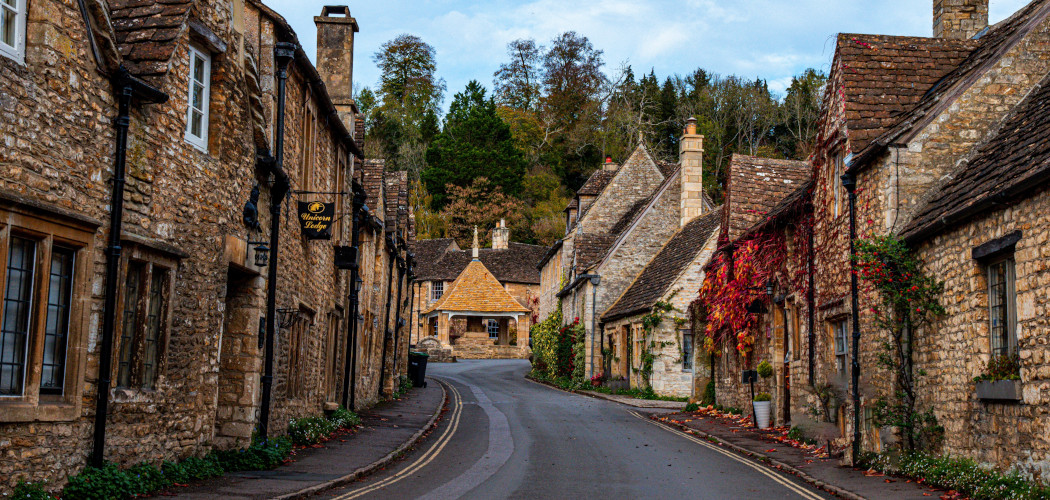 No new houses have been built in Castle Combe since the 1600s and so it makes sense that the beautiful and historic town served as the location for much of everybody's favourite period drama, Downton Abbey.
Sitting in the Cotswolds Area of Outstanding Natural Beauty, and often named its prettiest town, Castle Combe's sleepy streets house a combination of fabulous pubs and restaurants; the roaring fire and welcoming courtyard at the Castle Inn make it a particular favourite.
Distance from Lower Mill Estate: 19 miles
Cirencester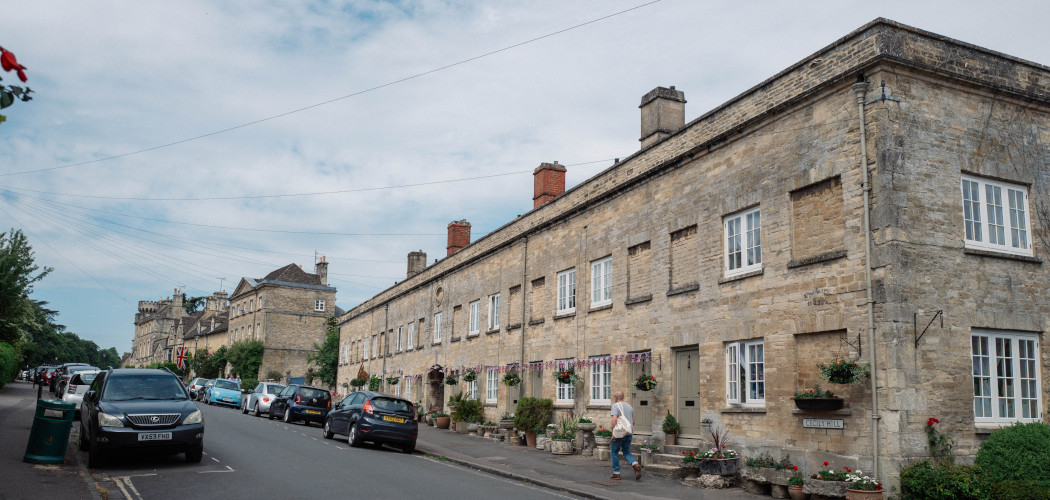 The market town of Cirencester is more substantial than most of its Cotswolds counterparts, yet it still manages to retain that old world charm for which Cotswolds holidays are so renowned.
The Roman town's history comes alive at its Corinium Museum, where you'll find a wealth of locally excavated treasures from floor mosaics to jewellery. Elsewhere, you can escape into the immaculately maintained walled gardens of Cerney House or cool off in Cirencester's open air swimming pool, from where you can take in gorgeous views across Cecily Gates and the parkland beyond.
Distance from Lower Mill Estate: 6 miles
Broadway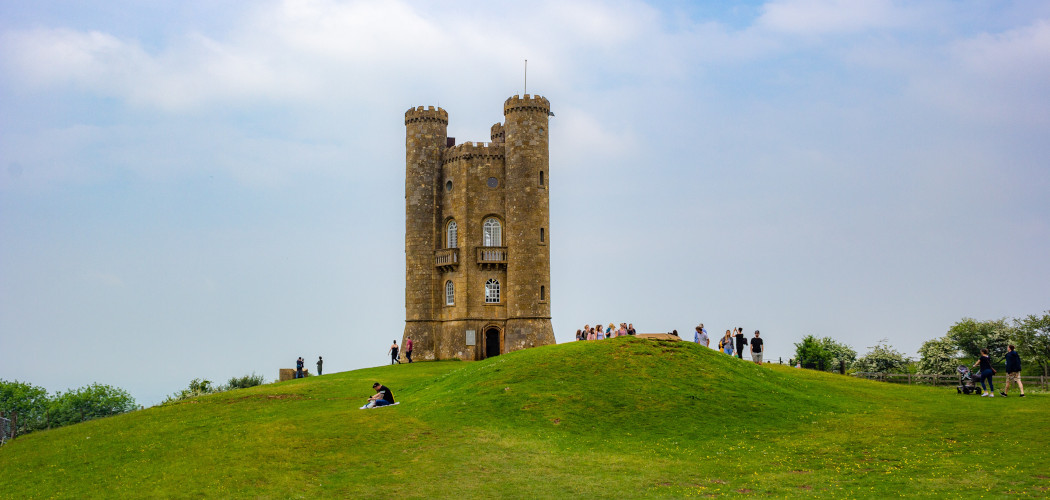 In Victorian times, the handsome village of Broadway served as a sanctuary for creatives. William Morris led the charge, adopting Broadway Tower as his country retreat in 1880, with American artists including John Singer Sargent and Frank Millet joining him in this new-found affordable English base surrounded by natural beauty and inspiration.
Today, Broadway maintains its artistic ties with the Gordon Russell Design Museum, which celebrates the life and work of renowned 20th-century designer Sir Gordon Russell. Located in his one-time workshop behind the Lygon Arms, it is a must-visit for fans of the Modernist movement.
Distance from Lower Mill Estate: 34 miles
Kingham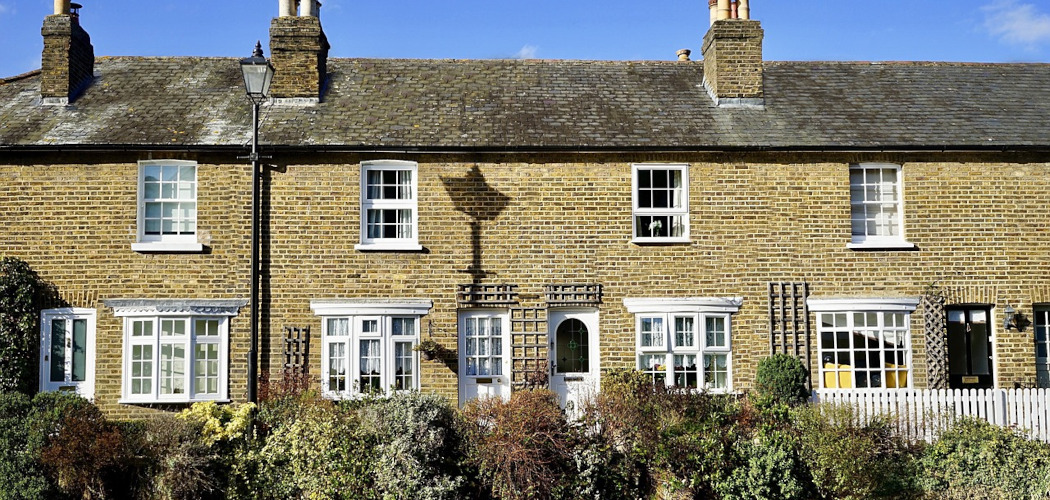 Kingham is the cosmopolitan Cotswolds. You're likely to stumble upon a famous face or two here, many of them passing through on their way to nearby Daylesford Farm. This isn't just a farm shop but a foodie institution where artisan breads, award-winning cheese and pasture-raised meats jostle for space in your basket.
If you'd rather let someone else do the cooking, treat yourself with fine dining at The Wild Rabbit in Kingham, or opt for a pub supper at The Kingham Plough, a traditional country pub.
Distance from Lower Mill Estate: 32 miles
Discover these gorgeous villages from our Cotswold holiday homes
Which Cotswolds villages are on your wish list? A holiday with Habitat Escapes lay the whole of this idyllic region at your feet, with endless antique shops, riversides, bakeries, gardens, scenic walks and more for the exploring. Discover our Cotswolds holidays on the Lower Mill Estate today for an unforgettable getaway.
---